MAKO CIGRE web portal works with JavaScript enabled.
Please enable Javascript in your browser!
Смени јазик

For full functionality MAKO CIGRE's web site uses cookies!
By continuing to use the web site you agree to MAKO CIGRE's web site
Ceremonial MAKO CIGRE General Assembly Meeting
MAKO CIGRE Gala Assembly Meeting, as central event in the celebration of 20 years of its establishement, will take place on Oct 9, 2014 atin Hotel Aleksandar Palace in Skopje.
MAKO CIGRE members are kindly invited to the Meeting, and it is expected that great number of guests (CIGRE officials, representatives from NC of CIGRE from SEERC), as well representatives from the industrial partners, MAKO CIGRE partners in the last 20 years.
The Program for the Gala Assembly Meeting is: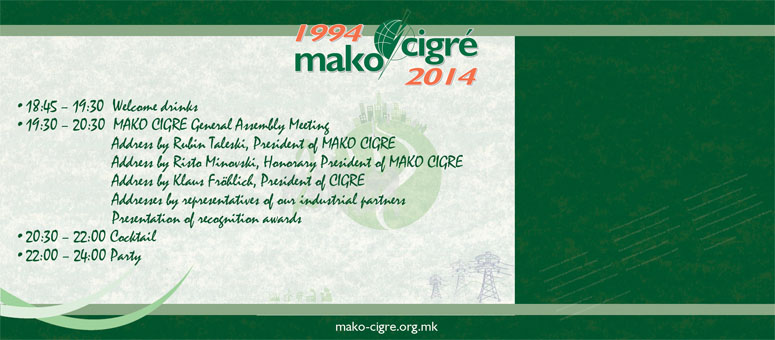 Login to view the photos in higher resolution!